Books
Maynard The Mannerly Monkey
Maynard, a delightful monkey, is loved by everyone because of his well-mannered behavior and his polite attitude toward all the residents of Jungle Town.
This book is designed for children infant to eight, but has won its way into the hearts of teens and adults. It will surely be a favorite with your child!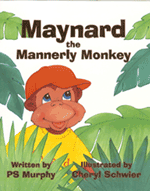 Cover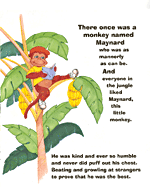 Inside page
P S Murphy's Maynard the Mannerly Monkey, like all of the books in the Maynard series, is written in poetic verse form and is illustrated by artist Cheryl Schwier.
Cheryl has designed artwork for places such as Wendell August Forge in Grove City, Pennsylvania. Her combined use of colored pencils, markers, and watercolor adds a deep, rich texture to each illustration and a strikingly, bold color that is a wonderful attraction to young children.
Murphy's and Schwier's combined talents have created one of the most cherished books and an adorable little monkey, children infant to age eight will desire to read over and over again.
Buy The Book