Books
The Brothers' Bakery
Travel through time to the medieval era in a beautifully illustrated book that will delight young readers. Follow brothers Pimal and Jimal matching wits with a powerful king in a determined effort to save their inheritance—the family bakery.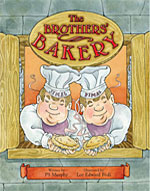 Cover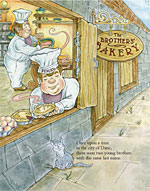 Inside page
PS Murphy has teamed up with creative artist Lee Fodi, the author and illustrator of Corranda's Crown and Kendra Kandlestar and the Box of Whispers. The Brothers' Bakery, a wonderful book to read with its smooth rhyming verses and delightful pictures features Lee's talent capturing the medieval era in vivid colors and with realistic characters.
The Brothers' Bakery, a twenty-four-page book, is the first in PS Murphy's children's virtue book series and teaches children valuable life lessons. Although this book was intended for eight to twelve year olds, it has found to be entertaining to younger children as well.
P S Murphy is also the author of Maynard the Mannerly Monkey, and her second and soon-to-be published book in the Maynard series, Maynard Makes a Mistake.